Full disclosure, I am NOT a nutritionist. When I was pregnant there was a book called "A Girls Guide to Pregnancy", which was written by a mom, not a doctor, and had the low down on what pregnancy was REALLY like. It was my favorite book. So think of me like that. I'm just sharing what I know to work for me. And I live with a food Natzi who likes to tell me what's in everything I eat, so there's that. Alright, so I mentioned smart snacking yesterday. Some times that can be the hardest thing to find. So what constitutes a good snack? I'm kinda boring really. I could eat the same thing everyday. I enjoy buying a box of something and taking the guess work out of 'what should I eat today?" So my snacks are usually the same 2 or 3 things. Between my breakfast shake and lunch I always have a protein bar. Now, I might get crazy and switch the bar up, cause I'm a rebel. 😉 At the moment I have a selection of 6 different bars to choose from.  These are my favs: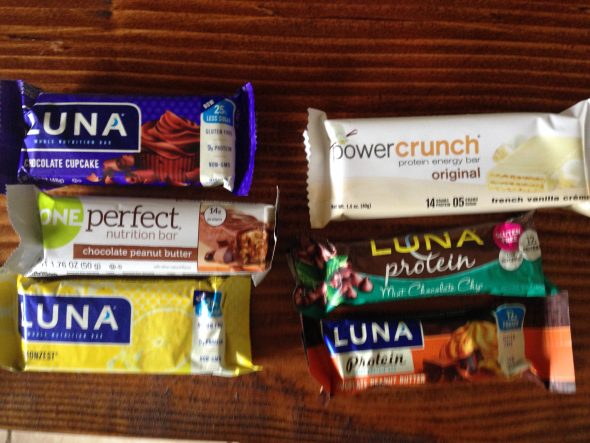 What you want to look for is one that has a good balance, isn't too high in sugars. Remember, this is a snack, not a meal. So try to keep the calories between 150 -200. I like Luna bars cause that taste good and have a little crunch to them. They're also Gluten Free. I don't have an issue with Gluten, but it's good to know for those of you who do.
Another fav snack are the little bags of nuts you can buy at Trader Joes. They already come prepackaged so I can just throw them in my purse and go. They have saved me on many occasions. They have some with just nuts and cranberries for those of you like my hubs who are being really good. I, however, like the ones with chocolate, cause sometimes I need a little something to look forward too. I eat these if I'm having a sweet tooth too. Did I mention I'm SOOOO not perfect! I have to keep it real, and if I deny myself everything, I become a very unhappy girl. So a little chocolate for me keeps me happy and these little bags keep me from having too much.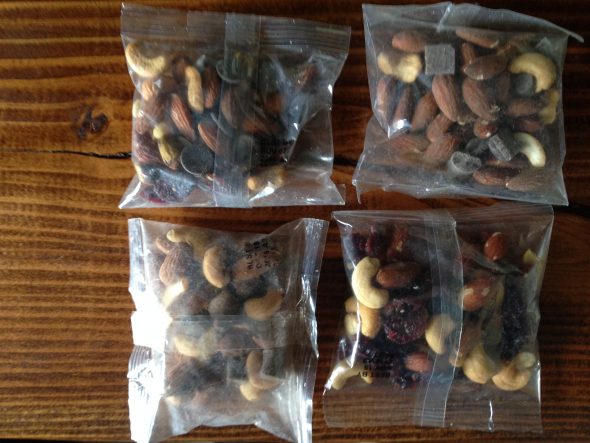 Other ideas: those smoothies from Trader Joes. I buy them for the kids, but I like them too. Hard boiled egg (with salt, yum!) Carrots and hummus…. I'm totally open to ideas. Let me know your fav!