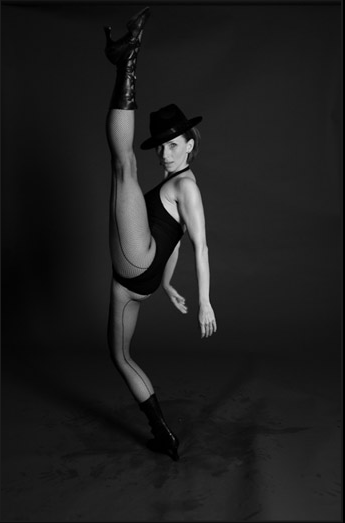 My dancing career started at age 9. A little late for a girl, but I had natural flexibility and pointy feet, so I was lucky. I was a classically trained Ballerina, studying with such schools as New York City Ballet (SAB), San Francisco Ballet, and Pacific Northwest Ballet. I attended the San Diego School of Performing Arts where I learned to love all forms of dance and got my first taste of acting. After High School I was accepted into UCLA's Theater Program. I performed in mostly straight plays, but did the occasional musical and fell in LOVE with it! Where else can you sing, dance and act all at the same time!! It was wonderful! After College I decided I better dance while I can, so I moved to New York. One month after I got there I auditioned for the Rockettes. Quite frankly, it wasn't my dream to be one, but I heard it payed well and I was BROKE. I got the job 2 days later. I must say, it was hard work and not the kind of dancing a ballerina is used to, but it was an amazing experience to dance on the stage of Radio City Music Hall in front of 6,ooo people a night. Mind you, I had to deal with dancing on a steal stage and dodging camel poop, (Nativity Scene) but it was cool being part of the institution.
I was a Rockette from 1994-1998
My dream was to be on Broadway. That dream came true when I was 26. I got in the Broadway production of "On The Town." I was a replacement for a friend of mine who was leaving the show. It was an exciting time. That was followed by "Chicago", "A Christmas Carol" where I got to work with the legendary Susan Stroman,  and "Kiss Me Kate." You can also see me in the PBS version of "Crazy for You" toe tapping on a table. I still have the toe/tap shoes on my wall as a reminder to never do that again!!
I left New York in 2002 .I Istill perform whenever I get the chance and now I teach dance to adults and children inside Dance Asylum/Aerial Fitness Orange County:
151 Kalmus Dr #J-7 Costa Mesa CA.